#1 Randy Orton [--] (43-18-4)
[Money in the Bank Contract]
With
Sheamus
MIA, the silver medal is ripe for the taking!
Alberto Del Rio
's complete inability to convert a win since turning heel denies him the opportunity, while
Bryan Danielson
is a bearded freight train on a collision course with the WWE title! It's nice to see
Wade Barrett
get a moment in the sun, even if its rays were only briefly reflected off the indomitable Danielson! Shame for Barrett to lose the grittiness of his facial hair, but if he ever learns to throw a punch (RE: Bare Knuckle Brawler), he'll be on his way.
#2
[--] Sheamus (36-14-2)
#3
[--] Alberto Del Rio (35-13-5) [World Champion]
#4
[--] Bryan Danielson (34-22-1)
#5
[--] Kane (26-20-0)
#6
[--] Ryback (22-13-1)
#7
[--] Roman Reigns (21-5-2) [Tag Team Champion]
#8
[--] Seth Rollins (21-9-1) [Tag Team Champion]
#9
[--] Mark Henry (21-9-0)
#10
[new] Dean Ambrose (20-11-0) [United States Champion]
#1
[--] Roman Reigns & Seth Rollins (20-5-1) [Tag Team Champions]
#2
[--] Dean Ambrose & Roman Reigns (15-4-0)
#3
[--] Dean Ambrose & Seth Rollins (15-4-0)
#4
[--] Jimmy Uso & Jey Uso (14-9-1)
#5
[--] Kane & Bryan Danielson (14-9-0)
#6
[--] Sheamus & Randy Orton (11-3-0)
#7
[--] Brodus Clay & Sweet Tea Tensai (9-9-1)
#8
[--] Cody Rhodes & Damien Sandow (5-11-1)
#9
[new] Randy Orton & Bryan Danielson (4-2-0)
#10
[-1] Brie Bella & Nikki Bella (4-3-0)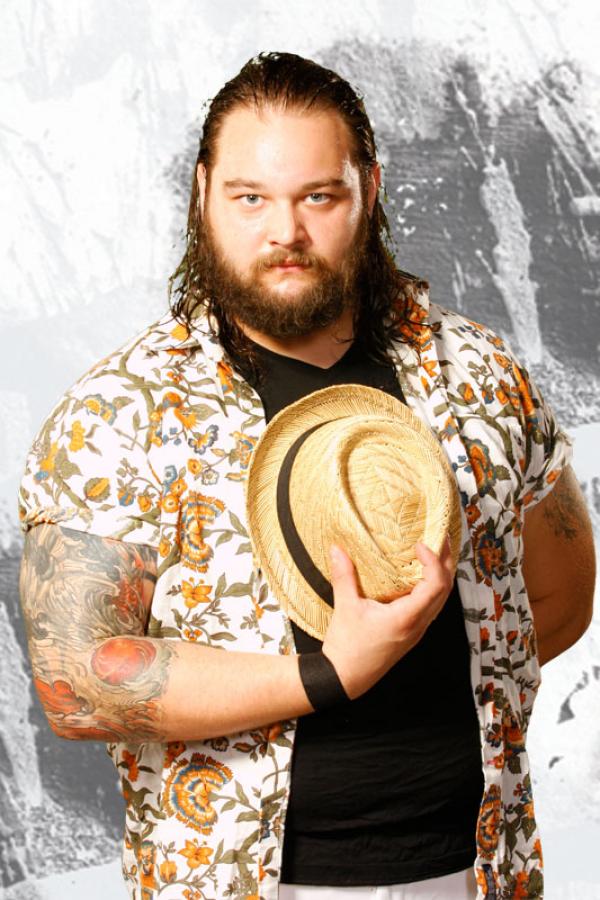 Superstar Spotlight:
#NR Bray Wyatt (0-0-0)
Don't call him Husky! He's
Bray Wyatt
and he's the destroyer of worlds, the bringer of truths, the spiritual guide of The Wyatt Clan. This character was a staple of NXT programming for quite some time, and like a lot of interested but lazy fans, I'd heard the stories and wondered what it was like. In my mind, I think I'd imagined a smidgen more
waltzing Leatherface
, but any pre-conceived notions have melted away with the immediate impact of this intriguing new character.
Characters with gimmicks have been in dwindling supply over the past decade. This guy (and his backwater minions) might not be my sweet spot, but it's nice to see most corners of the WWE evolving beyond the blokes in black trunks who dominated just a year or two ago! He's certainly several steps ahead of
Curtis Axel
[
05/26/2013
], even if Wyatt's fast tracked significance occupies a less glamorous spot on the card.
The presentation of the three-man clan raises a lot of questions, particularly for
The Shield
, whose purpose has been evaporating ever since they were revealed to be hired goons for Paul Heyman [last year]. Rumors have it The Shield have been on the outs since injuring
The Undertaker
on his way out [
04/28/2013
] and while they continue to storm the ring for attacks, their reason for doing so is all but gone. If they don't find a hook soon, The Wyatt Clan may be the heirs apparent to the three-man group. If only Harper/Rowan could figure out a way to wrestle in the masks!
The Kayfabe Countdown is based on the cumulative tally of wrestler win/loss records. Tallied results only include matches broadcast during WWE 2013 programming. At present, this includes RAW (Mondays), Main Event (Wednesdays), Smackdown (Friday), and monthly Pay-Per-View events.