#1 Randy Orton [--] (45-18-4)
[WWE Champion]
It seems like cooler heads prevailed, but for a while there - before he was shunted to the less watched Smackdown brand - a certain segment of fandom was convinced
Randy Orton
was equitable to "Stone Cold" Steve Austin. It's probably come as a shock, to those people, that "The Viper" is now walking a path much more like
The Rock
's early heel work! Worlds apart from the one-man anti-authority rebellion that was the Texas Rattlesnake!
Of course, for anyone with a memory, it's tough to ignore the deep, bitter, unresolved personal animosity that was the foundation of several
Triple H
/Orton rivalries. If you can juggle planes of reality to focus on the history that favourably associates Orton with Triple H, you'll get a lot more out of his appointment as "face of the company". Lord knows they've already ignored that no-turning-back bastardry a dozen times over, in the years that followed.
The comparison with Rock is by no means 1:1. As chosen 'corporate champion', Orton plays it much less overtly. He lacks the volume of persona to match Rock's glitzy arrogance. He is, however, a bigger piece in a puzzle that's unfolding around him. It was disappointing to see
Bryan Danielson
denied his moment in the sun at Summerslam -- but like
Mankind
, or
Stone Cold
before him, here's hoping Danielson has his day in good time. He's #3 on the countdown, with
Sheamus
out of action and Orton just as likely to avoid stacking up the wins now that he has nothing to prove as WWE Champion.
#2
[--] Alberto Del Rio (40-13-5) [World Champion]
#3
[+1] Bryan Danielson (37-24-1)
#4
[-1] Sheamus (36-14-2)
#5
[--] Kane (27-21-0)
#6
[+1] Roman Reigns (24-7-2) [Tag Team Champion]
#7
[+1] Seth Rollins (24-11-1) [Tag Team Champion]
#8
[
RE
] Dean Ambrose (23-13-0) [United States Champion]
#9
[--] Mark Henry (22-10-0)
#10
[-4] Ryback (22-14-1)
#1
[--] Roman Reigns & Seth Rollins (23-7-1) [Tag Team Champions]
#2
[+1] Dean Ambrose & Roman Reigns (18-6-0)
#3
[+1] Dean Ambrose & Seth Rollins (18-6-0)
#2
[-2] Jimmy Uso & Jey Uso (17-10-1)
#5
[--] Kane & Bryan Danielson (14-9-0)
#6
[--] Sheamus & Randy Orton (11-3-0)
#7
[--] Brodus Clay & Sweet Tea Tensai (9-9-1)
#8
[
RE
] Naomi & Cameron (5-3-0)
#9
[-1] Cody Rhodes & Damien Sandow (5-11-1)
#10
[-1] Randy Orton & Bryan Danielson (4-2-0)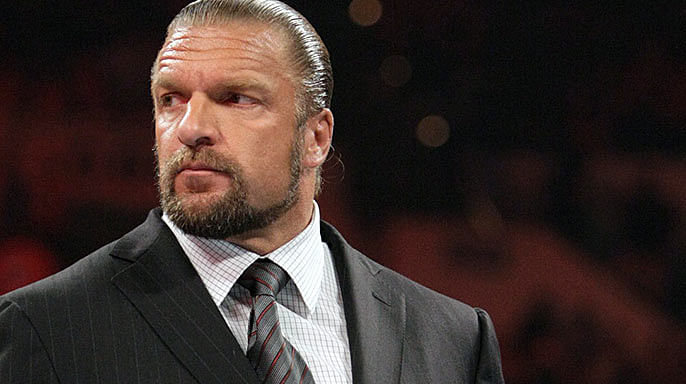 Superstar Spotlight:
#61 Triple H (1-3-0)
Sometimes it's hard to tell where the character of
Triple H
ends and the man "Paul Levesque" begins. At times I think there's a mad genius to what Triple H does - other times I'm not so sure.
His years of dominance as a wrestler earned him a special kind of ire from fans who weren't buying his particular brand of heel (or is that fans who
were
buying it?). Speculation about how he maintained that dominance - and whether or not it was responsible for diminishing other talent in a "real life" capacity -- took the outrage to a new level. It was a self-perpetuating kind of loathing, built with just enough truth to connect disparate dots to a mutual source. It's difficult to think there weren't times when the man petitioned to put himself above others. It's just as difficult to figure out how often that was out of self interest, and how often it was well meant intentions that fit within the constructs of this cultural phenomenon, this fictionalized sport, this entertainment medium we call pro wrestling.
Triple H has parlayed his reputation for domineering into a new role. As a capable, but aging talent, he's step aside (for the most part) to allow the next generation to flourish. As with many before him, this side-step means donning a suit and tie and becoming a different type of character. The lines of reality and fiction blur as he reflects what is widely reported to be a real-life grooming for a vital position within the inner workings of the promotion - a role once held in a vice grip by
Vince McMahon
(Jr).
Taking cues from Vince; Triple H appears to be establishing his own version of The Corporation stable that propelled
The Rock
to main event stardom in the late nineties. Because of his reputation and the realization of this through the suppression of up-and-coming fan-favourite
Bryan Danielson
- this creation hasn't been met with immediate grace. I do, however, find myself interested in seeing just how literally the concept will come to fruition.
The Shield
have finally found relevance in their association with Triple H as enforcers. The black flak jackets finally get bonus points for recalling the likes of the late
Big Bossman
, conjuring meta-textual images of the former McMahon/Corporate enforcer realized as a three-man assault squad. Reminiscent of moments with the original Corporation --
Big Show
is the reluctant muscle. He's spending much more time crying, but the belittling by his boss is there. I'd like to see him finally turn on his oppressors, but the thought that he might embrace them in a sinister turn is tasty, too. I do quite like the thought of this Corporation [COOperation?] growing -- even if it isn't in direct comparison to the original. If they can make it work, everyone will be better for it. Of course, an idea working in WWE in 2013 is easier imagined than received.
The Kayfabe Countdown is based on the cumulative tally of wrestler win/loss records. Tallied results only include matches broadcast during WWE 2013 programming. At present, this includes RAW (Mondays), Main Event (Wednesdays), Smackdown (Friday), and monthly Pay-Per-View events.