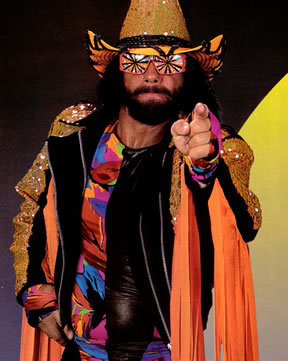 #1 Randy Savage [--] (12-5-0) (WWF)
A traditional Survivor Series spreads the load amongst a wide variety of stars, featuring an adaptation of five 4-on-4 elimination matches! Hulk Hogan takes steps toward securing his dominance in the pay-per-view business, while "The Macho King" Randy Savage leads his own court of allies to victory with only one member lost to The 4x4s (Greg Valentine).

Despite a massive roster, Survivor Series does little to shake the rankings. Dusty Rhodes continues to represent the WWF with a base founded in the NWA. Likewise, former Krusher Smash climbs into the Top 5 to challenge Road Warrior Hawk. The Barber Brutus Beefcake shows the benefits of an affiliation with The Hulkster, but the biggest winners in '89 are the true tag teams in WWF!

The Fabulous Rougeaus make their entry into the tag team rankings at #8. Smash's solo success reflects his team base as a member of Team Hulkamaniacs, and #2 ranked tag team Demolition. Outside the scope of ranking is Ultimate Warrior's running buddies The Rockers. We'll be watching that team with interest as the years unfold -- longevity making Shawn Michaels one of the most intriguing names that will manifest in this statistical experiment.

Once again the changing pace of the pay-per-view game introduces new concepts! December packs a very unique double-header as Starrcade ends the year again, while WWF cross-promote with the film No Holds Barred with a one-match broadcast main event! Randy Savage & Zeus reunite against Hulk Hogan & Brutus Beefcake in a steel cage tag team match billed as The Match/The Movie! Stay tuned!
Top Ten Singles PPV Players
#1 [--] Randy Savage (12-5-0) (WWF)
#2 [--] Hulk Hogan (9-2-1) (WWF) [World Heavyweight Champion]
#3 [--] Ric Flair (8-3-1) (NWA) [World Heavyweight Champion]
#4 [--] Road Warrior Hawk (7-2-0) (NWA)
#5 [+1] Smash (7-3-0) (WWF)
#6 [-1] Ricky Steamboat (7-5-0) (NWA)
#7 [+2] Brutus Beefcake (6-2-2) (WWF)
#8 [RE] Dusty Rhodes (6-3-0) (WWF)
#9 [-2] Road Warrior Animal (6-3-0) (NWA)
#10 [-2] Sting (5-0-2) (NWA) [World Television Champion]

Top Ten Tag Team PPV Players
#1 [--] Road Warrior Hawk & Animal (6-2-0) (NWA)
#2 [+1] Ax & Smash (5-2-0) (WWF)
#3 [-1] Bobby Eaton & Stan Lane (4-1-0) (NWA)
#4 [--] Bret Hart & Jim Neidhart (4-3-0) (WWF)
#5 [--] Ricky Morton & Robert Gibson (3-0-0) (NWA)
#6 [--] Arn Anderson & Tully Blanchard (3-1-1) (WWF)
#7 [--] Davey Boy Smith & Dynamite Kid (3-2-1) (WWF)
#8 [new] Jacques & Raymond Rougeau (3-4-1) (WWF)
#9 [-1] Nikolai Volkoff & The Iron Sheik (2-0-0) (WWF)
#10 [-1] Paul Roma & Jim Powers (2-0-0) (WWF)
Top Womens PPV Players
#1 [--] The Fabulous Moolah (2-0-0) (WWF)
#2 [--] Rockin' Robin (2-0-0) (WWF) [Women's Champion]
#3 [--] Wendi Richter (1-0-0) (WWF)
#4 [--] Itsuki Yamazaki (1-0-0) (WWF)
#5 [--] Noriyo Tateno (1-0-0) (WWF)
The Pay-Per-View Players rankings intend to take into account pay-per-view events promoted by NWA, WWF, WCW, ECW, WWE & TNA wrestling organizations. Only broadcast results contribute to the cumulative tally of win/loss record of wrestlers. Pre-show matches will not be included.