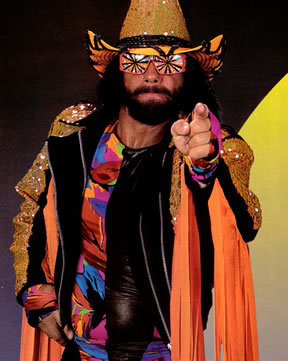 #1 Randy Savage [--] (12-7-0) (WWF)
A Clash of Champions injury stems Sting's run to the top as he's forced to take a corner, replaced in the WrestleWar World Heavyweight Championship match by Lex Luger! Defending the title is, of course, "The Nature Boy" Ric Flair -- successful and strong in the #4 rank! The late change to the card disrupts another title campaign as "Dr. Death" Steve Williams is denied his shot at Luger's NWA US Heavyweight title.

The NWA Tag Team pedigree is back in force at WrestleWar '90! Welcome back The Rock 'n' Roll Express to pay-per-view! Morton & Gibson fight back into the Top 3 tag teams with their 4th unanswered win on PPV! Reigning World Tag Team Champions The Steiners reinforce their stroke with a title defense that elevates them to #5! The defense against NWA returning Arn Anderson & Ole also elevates Rick Steiner into the overall Top 10! The Road Warriors stay strong - #1 tag team, with Road Warrior Hawk #3 and top NWA ranked star. Road Warrior Animal is firmly entrenched at #5.

The modern fan will be keen to recognize the admission of two new stars into the singles ranks. Cactus Jack and Mean Mark Callous make their NWA pay-per-view debuts this month! The pair will know each other well in time, and be potent forces on PPV in McMahon designed identities. We're a little early for Mankind and The Undertaker, but the seeds are indeed planted!

Transmission goes quiet for a month, only to heat up again in April with the pay-per-view extravaganza of WWF's Wrestlemania! The annual major will be WWF's opportunity to rest back the dominant share of top ranks taken by NWA! Wrestlemania VI will emanate from Canada with a main event quite unlike any other! Hulk Hogan only needs one unanswered win to assume the top spot! The Hulkster has the home ground advantage at Wrestlemania -- but will it be enough?
Top Ten Singles PPV Players
#1 [--] Randy Savage (12-7-0) (WWF)
#2 [--] Hulk Hogan (11-2-1) (WWF) [World Heavyweight Champion, Royal Rumble 1990]
#3 [--] Road Warrior Hawk (10-3-0) (NWA)
#4 [--] Ric Flair (10-4-2) (NWA) [World Heavyweight Champion]
#5 [--] Road Warrior Animal (9-4-0) (NWA)
#6 [--] Sting (7-1-2) (NWA)
#7 [--] Brutus Beefcake (7-2-3) (WWF)
#8 [--] Smash (7-4-0) (WWF)
#9 [--] Ricky Steamboat (7-5-0) (NWA)
#10 [new] Rick Steiner (6-4-1) (NWA) [World Tag Team Champion]

Top Ten Tag Team PPV Players
#1 [--] Road Warrior Hawk & Animal (9-3-0) (NWA)
#2 [--] Ax & Smash (5-2-0) (WWF)
#3 [+2] Ricky Morton & Robert Gibson (4-0-0) (NWA)
#4 [-1] Bobby Eaton & Stan Lane (4-2-0) (NWA)
#5 [+4] Rick & Scott Steiner (4-2-0) (NWA) [World Tag Team Champions]
#6 [-2] Bret Hart & Jim Neidhart (4-3-0) (WWF)
#7 [-1] Arn Anderson & Tully Blanchard (3-1-1) (WWF)
#8 [-1] The Samoan Savage & Fatu (3-1-0) (NWA)
#9 [-1] Davey Boy Smith & Dynamite Kid (3-2-1) (WWF)
#10 [--] Jacques & Raymond Rougeau (3-5-1) (WWF)
Top Womens PPV Players
#1 [--] The Fabulous Moolah (2-0-0) (WWF)
#2 [--] Rockin' Robin (2-0-0) (WWF) [Women's Champion]
#3 [--] Wendi Richter (1-0-0) (WWF)
#4 [--] Itsuki Yamazaki (1-0-0) (WWF)
#5 [--] Noriyo Tateno (1-0-0) (WWF)
The Pay-Per-View Players rankings intend to take into account pay-per-view events promoted by NWA, WWF, WCW, ECW, WWE & TNA wrestling organizations. Only broadcast results contribute to the cumulative tally of win/loss record of wrestlers. Pre-show matches will not be included.