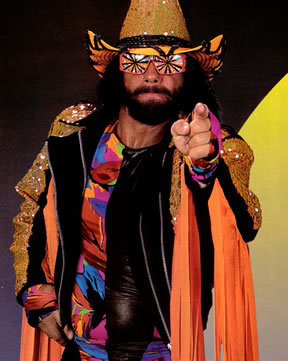 #1 Randy Savage [--] (12-8-0) (WWF)
It's The Road Warriors' world and we're just living in it! NWA Capital Combat extends the Road Warrior dominance over the Tag Team rankings, uniting the pair as the Top 2 individually ranked NWA Pay-Per-View stars as well! Ric Flair remains World Heavyweight Champion, but concedes defeat in a steel cage disqualification to Lex Luger in a title retaining loss!

It's 50/50 in the NWA v WWF rankings stakes. At this time one has to marvel at the enduring presence of Ricky Steamboat! The former World Champion hasn't been seen on PPV for quite some time, but persists on the back of memorable matches with Ric Flair and Randy Savage. The situation speaks to the shuffling of talent occurring further down the list. As we move into the nineties, you would expect some of those names to bubble to the fore.

Future prospect Mark Callous picked up a singles win against Johnny Ace. In tag team match-ups Ron Simmons & Butch Reed claimed the NWA World Tag Team Champions from The Steiners in only their second PPV victory. Cactus Jack was on the losing side of the Road Warriors, teamed in six-man competition with Kevin Sullivan & Bam Bam Bigelow. It's a school of hard knocks that will deliver many of these names to greater stardom in the future!

The Rock 'n' Roll Express stay in the region, picking up their 5th unanswered pay-per-view victory! Bobby Eaton & Stan Lane of the arch-rival Midnight Express claimed their second NWA US Tag Team Championship on PPV. The New Wild Samoans stay strong, but titleless.

The battle moves to the summer as NWA present their annual Great American Bash in July, and WWF follow the next month with Summerslam! As we enter the second half of 1990, who will be the stars who rise to the top? The winds of change blow warm heat across the sands. The warriors of all nations beckon to the rude one. The championship must reach the ultimate! Behhhhhh!!!
Top Ten Singles PPV Players
#1 [--] Randy Savage (12-8-0) (WWF)
#2 [--] Hulk Hogan (11-3-1) (WWF) [Royal Rumble 1990]
#3 [--] Road Warrior Hawk (11-3-0) (NWA)
#4 [+1] Road Warrior Animal (10-4-0) (NWA)
#5 [-1] Ric Flair (10-4-2) (NWA) [World Heavyweight Champion]
#6 [--] Brutus Beefcake (8-2-3) (WWF)
#7 [--] Smash (8-4-0) (WWF) [Tag Team Champion]
#8 [--] Sting (7-1-2) (NWA)
#9 [--] Dusty Rhodes (7-4-0) (WWF)
#10 [--] Ricky Steamboat (7-5-0) (NWA)

Top Ten Tag Team PPV Players
#1 [--] Road Warrior Hawk & Animal (10-3-0) (NWA)
#2 [--] Ax & Smash (6-2-0) (WWF) [Tag Team Champion]
#3 [+1] Ricky Morton & Robert Gibson (5-0-0) (NWA)
#4 [+1] Bobby Eaton & Stan Lane (5-2-0) (NWA) [US Tag Team Champions]
#5 [-2] Bret Hart & Jim Neidhart (5-3-0) (WWF)
#6 [+2] The Samoan Savage & Fatu (4-1-0) (NWA)
#7 [-1] Rick & Scott Steiner (4-3-0) (NWA)
#8 [-1] Arn Anderson & Tully Blanchard (3-1-1) (WWF)
#9 [--] Davey Boy Smith & Dynamite Kid (3-2-1) (WWF)
#10 [--] Jacques & Raymond Rougeau (3-5-1) (WWF)
Top Womens PPV Players
#1 [--] The Fabulous Moolah (2-0-0) (WWF)
#2 [--] Rockin' Robin (2-0-0) (WWF) [Women's Champion]
#3 [--] Wendi Richter (1-0-0) (WWF)
#4 [--] Itsuki Yamazaki (1-0-0) (WWF)
#5 [--] Noriyo Tateno (1-0-0) (WWF)
The Pay-Per-View Players rankings intend to take into account pay-per-view events promoted by NWA, WWF, WCW, ECW, WWE & TNA wrestling organizations. Only broadcast results contribute to the cumulative tally of win/loss record of wrestlers. Pre-show matches will not be included.