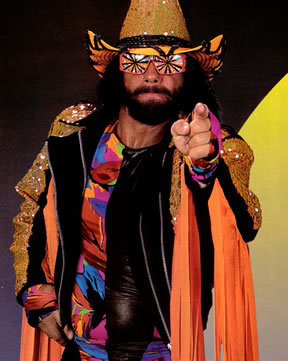 #1 Randy Savage [--] (12-6-0) (WWF)
From one extreme to another! WWF Survivor Series paraded a roster of stars in November multi-man team matches. Starrcade '89 takes a different tact: grounded by two round robin tournaments that feature the cream of the NWA singles and tag team crop!

Sting arrives to the big time with a monumental tournament victory over Ric Flair in the Starrcade main event! The Great Muta goes winless of the four, while Lex Luger finally evens the score to take a positive winning record in his own launch toward greatness. Less revolutionary: The Road Warriors secure their status as the best tag team of the time, ending the tournament with a points winning victory over The New Wild Samoans!

The pendulum of tag team wrestling swings once again! Ron Simmons & Butch Reed go winless in the round robin, but third team The Steiner Brothers find their way into the Top 10 PPV tag teams with a healthy 2-1 tournament record! Their graduation completes a cleansing of the tag team ranks, reducing the field to ten memorable pure duos!

Well short of the elevated 6 win entry point is Hulk Hogan & Brutus Beefcake. They emerged victorious from the WWF steel cage in a promotional double: No Holds Barred: The Movie/The Match! Coming up short in the Summerslam '89 rematch - Randy Savage and film character come-to-life Zeus (aka Tom "Tiny" Lister)!

With that, we roll into the decade that transforms the pay-per-view business into a year-long institution! This is the nineties! 1990 isn't quite ready for a monthly schedule, leaving January the sole domain of WWF and the annual Royal Rumble! The 30-man elimination battle royal strips the scope of opportunity. Will the Federation superstars be able to counter NWA's '89 affirmation of new and old stars? The challenge is set!
Top Ten Singles PPV Players
#1 [--] Randy Savage (12-6-0) (WWF)
#2 [--] Hulk Hogan (10-2-1) (WWF) [World Heavyweight Champion]
#3 [+1] Road Warrior Hawk (9-3-0) (NWA)
#4 [-1] Ric Flair (9-4-2) (NWA)
#5 [+4] Road Warrior Animal (8-4-0) (NWA)
#6 [+4] Sting (7-1-2) (NWA)
#7 [--] Brutus Beefcake (7-2-2) (WWF)
#8 [-3] Smash (7-3-0) (WWF)
#9 [-3] Ricky Steamboat (7-5-0) (NWA)
#10 [-2] Dusty Rhodes (6-3-0) (WWF)

Top Ten Tag Team PPV Players
#1 [--] Road Warrior Hawk & Animal (8-3-0) (NWA)
#2 [--] Ax & Smash (5-2-0) (WWF)
#3 [--] Bobby Eaton & Stan Lane (4-1-0) (NWA)
#4 [--] Bret Hart & Jim Neidhart (4-3-0) (WWF)
#5 [--] Ricky Morton & Robert Gibson (3-0-0) (NWA)
#6 [--] Arn Anderson & Tully Blanchard (3-1-1) (WWF)
#7 [new] The Samoan Savage & Fatu (3-1-0) (NWA)
#8 [-1] Davey Boy Smith & Dynamite Kid (3-2-1) (WWF)
#9 [new] Rick & Scott Steiner (3-2-0) (NWA)
#10 [-2] Jacques & Raymond Rougeau (3-4-1) (WWF)
Top Womens PPV Players
#1 [--] The Fabulous Moolah (2-0-0) (WWF)
#2 [--] Rockin' Robin (2-0-0) (WWF) [Women's Champion]
#3 [--] Wendi Richter (1-0-0) (WWF)
#4 [--] Itsuki Yamazaki (1-0-0) (WWF)
#5 [--] Noriyo Tateno (1-0-0) (WWF)
The Pay-Per-View Players rankings intend to take into account pay-per-view events promoted by NWA, WWF, WCW, ECW, WWE & TNA wrestling organizations. Only broadcast results contribute to the cumulative tally of win/loss record of wrestlers. Pre-show matches will not be included.