Hello!
I'm Mike. You might know me as the guy with the eyebrows in the not-quite pretentious black and white avatar; the scowly wrestler-faced guy who talks about superheroes on
Secret Wars on Infinite Earths
; as the writer/creator of the experimental small press comic book,
The Kirby Martin Inquest
(via Nite Lite Theatre); the guy who used to write for
prowrestling.com
; had some music chart on the original mp3.com; and/or from many other embarrassing online projects from the past ten years of little note.
Thanks to a big chunk of re-post segments with links to "SWoIE," my blog post count has been successfully padded out to 100 posts. In the interest of full disclosure and lazy blogging, I thought I might sift through those many entries to repost the ones that weren't quite as creatively insulting. The ones that fall into a series of formats I've imposed upon myself to structure otherwise meandering and pointless rantings.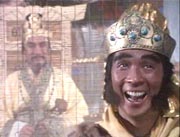 I'd stumbled across 1up.com once or twice through random happenstance in the past, but became more interested in the site via
BigMex's blog
(after he linked to
mine
) and after finding the podcasts whilst searching for
Street Fighter IV
news (ie; The 1up Show #117's exclusive first-look). They were simpler times, those heady days of early 2008. Halcyon, young, and oh-so full of promise...
Despite struggling to cross over into the current generation of games, I've played intermittently for the past twenty years. My interests skirt somewhere between the much discussed "casual" and "hardcore" ethics, to include: beat 'em ups like
Street Fighter
,
Mortal Kombat
, and
Tekken
; combative racers like
Wipeout
and
Twisted Metal
; music rhythm games like
PaRappa the Rapper
and
Bust-A-Groove
; prowrestling games like the
WWE: Smackdown!
(vs RAW) series; survival horror games like
Resident Evil
and
Silent Hill
; and many many more. Including, of course, the game from which my 1up user handle originates -
Shinobi III
.
I'm foreign; generally regard Nintendo as the score on a failed IQ test; prefer most games have a story; refuse to drop "PSX" as the shorthand reference to the PlayStation; and think said console was probably the crowning achievement of the entire industry. I have no special loyalty to Sony, despite considering the PS3 the slightly more interesting, if wholeheartedly stagnant, lesser evil of a generation dominated by the unnecessarily unattractive and boring.
I understand these things might put us at odds, but am sure we can still be friends. Even if you're wrong.
My current high score on
Contra: Hard Corps
is: 1330.
AdVantage Point...
Each entry features a scan of a gaming advertisement than ran in a comic book.
These scans are all in my 1up gallery and might have some archival use for someone at some point. Otherwise, these are posts that meander around the topic of the quality of the advert, the subject of the advert, or any tangential subjects that it might inspire. None of the features are affiliated with the products mentioned in them, and should be enjoyed or disdained with the freely admitted knowledge that each image might be subliminally affecting your decision making with over sexualized imagery and pseudo-science.
Also, "AdVantage Point" is a hilarious and brilliant triple-threat of wordplay. Makes you laugh; makes you think.
Street Fighter IV (2009)
[April 16, 2009]
Mortal Kombat II (1994)
[April 17, 2009]
Dragonball Evolution (2009)
[April 18, 2009]
Halo Wars (2009)
[April 20, 2009]
TNA Impact! (2008)
[April 21, 2009]
Mirror's Edge (2008)
[April 23, 2009]
Catwoman (2004)
[April 28, 2009]
Wolverine: Adamantium Rage (1994)
[May 1, 2009]
X-Men: Mutant Academy 2 (2001)
[MAy 4, 2009]
Marvel Super Heroes: War of the Gems (1996)
[May 9, 2009]
Matrix Online (2004)
[May 28, 2009]
WWF: Royal Rumble (1993)
[June 2, 2009]
Twisted Metal: World Tour (1996)
[June 10, 2009]
Final Fantasy VII (1997)
[June 11, 2009]
Silent Hill: Homecoming (2008)
[June17, 2009]
Splatterhouse (1990)
[June 23, 2009]
Musi(c.)PSX...
Much like the AdVantage Point series of posts, these posts feature the corresponding music video embedded from YouTube. All songs fall within, and often reference, the era in which the PlayStation console was dominant. The oh-so less groovy trendy name of the posts would be,
Music Circa the PlayStation
. Since that many words wouldn't look good printed in a white blocky font on orange paper with a tiny logo in the bottom right corner, it had to be sassed like the cover of a mainstream Luke Slater album.
Underworld - Born Slippy .NUXX (1995)
[May 2, 2009]
The Prodigy - Breath (1996)
[May 5, 2009]
Groovezone - Eisbaer (1997)
[May 8, 2009]
Aphex Twin - Windowlicker (1999)
[May 14, 2009]
Secret Garden - Nocturne (1995)
[May 17, 2009]
Dana International - Diva (1998)
[May 23, 2009]
Aphex Twin - Donkey Rhubarb (1996)
[May 25, 2009]
Fluke - Atom Bomb (1996)
[May 26, 2009]
Sly & Robbie - Superthruster (1999)
[May 27, 2998]
Rob Dougan - Clubbed to Death (1996)
[May 29, 2009]
USURA - Open Your Mind '97 (1997)
[May 30, 2009]
Moby - Run On (1998)
[June 3, 2009]
Pet Shop Boys - I Don't Know What You Want But I Can't Give It Anymore (1999)
[June 16, 2009]
Hero Of The Week...
Each Monday the world stops in order to recognise the achivements of a single superhero.
These posts bounce off of events in games, film, television, and the comics themselves, to further typecast this blog as one written by
that guy who does the comics
. As it happens, superheroes have become a phenomenon in popculture making it fairly easy to connect most characters back to video games, either upcoming, or retro.
#1 Wolverine (Marvel)
[June 1, 2009]
#2 Batman (DC)
[June 8, 2009]
#3 The Flash (DC)
[June 15, 2009]
#4 Captain America (Marvel)
[June 22, 2009]
Saturday Night Slam Masters...
In the mid-nineties Capcom attempted to capitalize on the success of their various fighting games with a venture into the prowrestling genre.
Saturday Night Slam Masters
(and it's sequels) remain a slightly obscure but fondly remembered series of games full of the same type of energy and design that made
Street Fighter
a juggernaut.
In an attempt to stress test the thought of reviving the series as a conventional wrestling game (complete with story modes), these posts feature results written as if Capcom Wrestling Association were competing with WWE. The series includes Capcom characters from other successful franchises with the hope of writing a full year's worth of events.
The Muscle Bomber Comeback!
[June 4, 2009]
CWA: The International Blowout Preview
[June 5, 2009]
CWA: The International Blowout
[June 7, 2009]
CWA: Saturday Night Slam Masters
[June 13, 2009]
CWA: Saturday Night Slam Masters
[June 20, 2009]
Miscellanious...
An obsessive compulsive's worst nightmare!!!
These are the articles that were not contorted to fit into one of the other post formats.
They are no better written, better conceived, or even necessaily worth your time.
Wipeout: Style and Substance
[Jan 28, 2009]
You Stupid Fanboy!
[Jan 29, 2009]
There's a brand new dance, but I don't know it's name... TEKKEN!
[June 18, 2009]
Games on Film: Silent Hill (2006)
[June 19, 2009]
SixArmedSamurai 101up: Lazy Self-Refencial Milestone Post
[Ironically Self-Referenced]
Original Post: http://www.1up.com/do/blogEntry?bId=8996095